SCHEDULED INTERRUPTION SEPTEMBER 14, 2019; 5:00 AM TO 7:00 AM
SOCOTECO II respectfully informs its member-consumers that SARANGANI ENERGY CORPORATION UNIT – 2 will undergo ISLAND MODE TESTING on SEPTEMBER 14, 2019 (SATURDAY).
A 20-minute to 2-hour brownout will be experienced by all parts of SOCOTECO II franchise area between at 5:00 AM to 7:00 AM. During this period, all power requirements by the Coop will be supplied by SEC Unit 2. Immediately after the test, SOCOTECO II will be re-connected to Mindanao grid. Island mode is the ability to operate independently outside the transmission network of National Grid Corporation of the Philippines (NGCP).
While SOCOTECO II participates in this island mode testing, Sarangani Energy Corporation, in coordination with NGCP, is the lead entity to ensure on-time, if not earlier, restoration of power.
Thank you for your kind understanding.
#####
Approved for Release:
GERONIMO D. DESESTO
ISD Manager
September 11, 2019
553-5848 to 50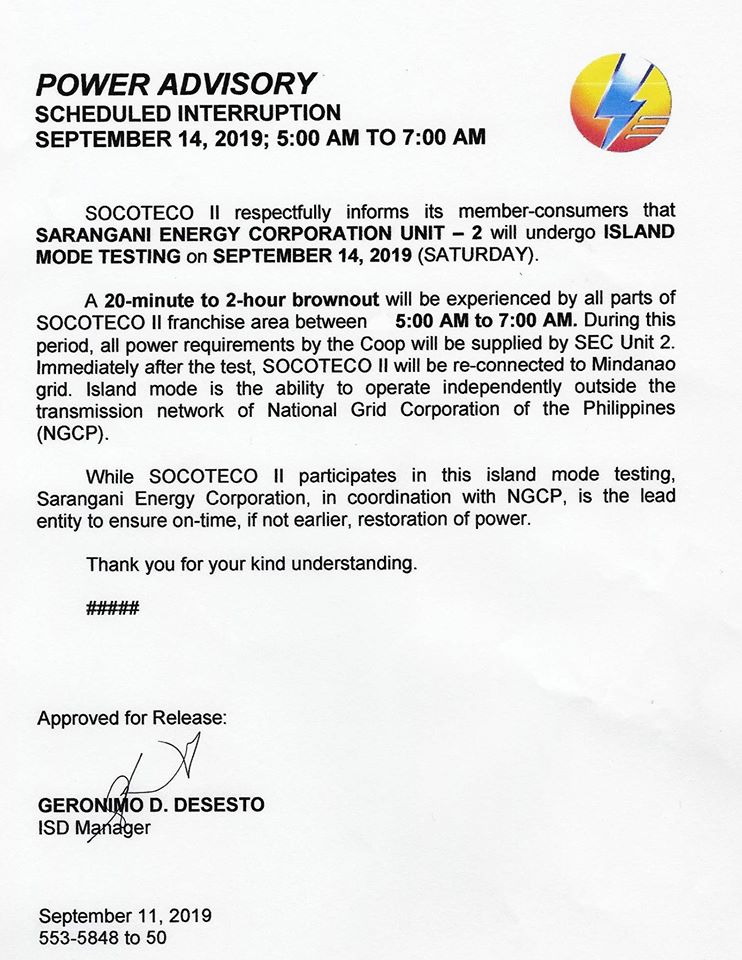 ---