Power Interruption: December 10, 2017 (Sunday) 5:00AM – 8:00PM (15hrs)
AFFECTED AREAS:
FEEDER 3-1
MARIBULAN, SACI,VALENCIA,ALEGRIA, MINANGA, BUAYAN, ASINAN
FEEDER 3-2
MUNICIPALITY OF ALABEL, MUNICIPALITY OF MALAPATAN
FEEDER 3-3
SARANGANI AQUA RESOURCES
REASON: SARI SUBSTATION PREVENTIVE MAINTENANCE, REPAIR OF LEAKING SECONDARY BUSHING AND INSTALLATION OF METERING CURRENT TRANSFORMERS
SCOPE OF WORKS
Stage 1
De-energization of Secondary Breakers, Secondary ABS/DS, Primary ABS/DS
Disconnection of Primary & Secondary leads of Power Transformer
Preparation/ Set-up of test instruments/equipments
Conduct transformer visual inspection
Extracting transformer oil samples for dissolved Gas Analysis
Test, Oil Dielectric Strength Test & Oil IPF Test
Re-gasketing of Secondary bushing phase A,B,C and N
Stage 2
Conduct As-Found testing for Spot/Polarization Index, Insulation Resistance Test
Conduct testing for transformer winding excitation test, transformer capacitance and dissipation factor tests, testing for oil capacitance & dissipation factor tests
Conduct As found reading tests for transformer oil dielectric strength test
Conduct As found testing for transformer dissolved gas analysis test, testing for transformer turns ration test (TTR), testing for transformer winding resistance, timing test for 69kv breakers and
conduct contact resistance test for 69kv breakers
Stage 3
Conduct transformer oil treatment like filtering works with heater & degassing of main transformer
Conduct cleaning of power transformers and repainting works
Conduct Oil dielectric strength test for oil monitoring
Stage 4
Conduct AS-Left reading test for dissolved gas analysis and As-left reading for transformer oil dielectric strength test, cleaning of Primary and Secondary transformer porcelain bushings
Conduct As-Left reading for spot/polarization index-insulation resistance test, re-installation of primary & secondary leads.
Finalization and double checking of transformer conditions, including primary and secondary terminals connection and housekeeping of testing instruments.
Signing on site data results as basis and/or proof of work and also as an acknowledgement of present transformer condition and restoration/re-energization of 69kv ABS and breakers and also secondary switches for feeders.
OUR APPEAL to the PUBLIC:
While we understand the inconvenience that this extended brownout will cause to our customers, SOCOTECO II has to implement the planned outage the soonest possible time to avoid further damage to our 10MVA substation facility.
Our technical personnel and contractor will exhaust all means to complete the task within the given time frame.
Thank you for bearing with us.
Should there be interruptions outside the given schedule, please call 553-5848 to 50 for inspection on possible line trouble.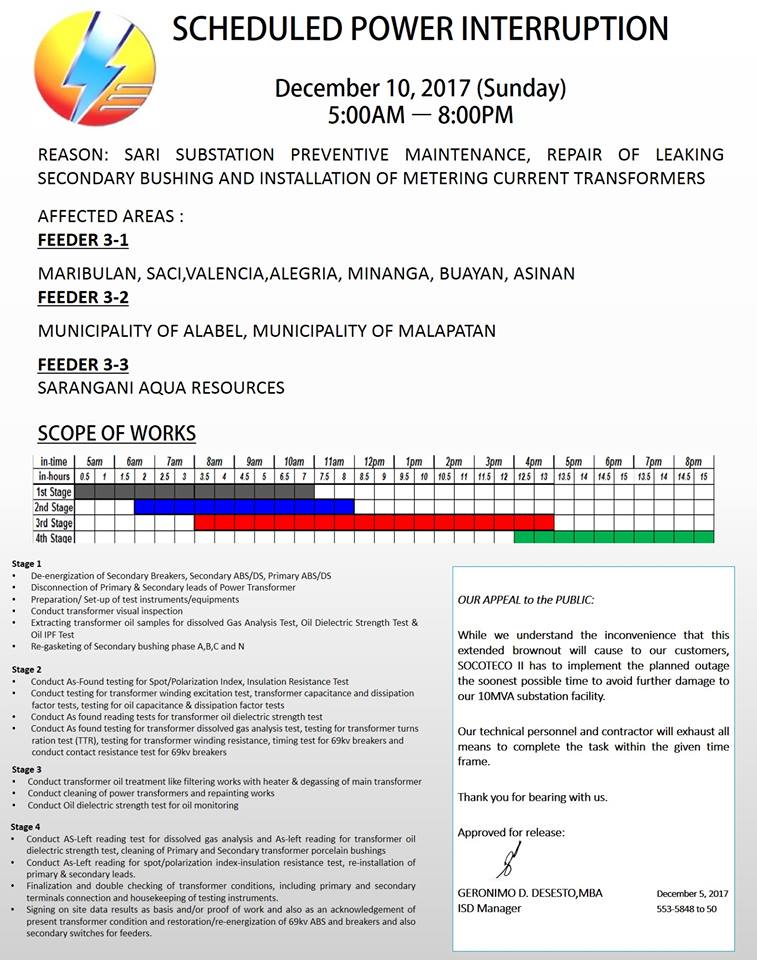 ---