NOTICE OF POWER INTERRUPTION JANUARY 13 and 14, 2018
SOCOTECO II respectfully informs the following SCHEDULED POWER INTERRUPTION on JANUARY 13 and 14, 2018, affecting the following areas:
JAN. 13, 2018 (Saturday); 9AM-1PM (4hrs)
FEEDER 7-3
PIONEER HYBRID, BIBIANA PIGGERY, PRK 3 TO 10 BRGY KATANGAWAN, TINAGACAN,MARCELLIN, DANGPANAN, BATOMELONG, BATOTITIK, UPPER LABAY, MALANDAG, MIASONG, MALUNGON, BANATE, JP LAUREL, SITIO NAGIA ALABEL
Reason: Relocation of Recloser at Brgy. Batomelong
JAN. 14, 2018 (Sunday); 9AM-1PM (4hrs)
PART OF FEEDER 7-2
SYNGENTA PHILS., PACKING 13, PRK. NIERRE, PART OF BRGY. SAN ISIDRO
Reason: Relocation of Poles
Should there be interruptions outside the given schedule, please call 553-5848 to 50 for inspection on possible line trouble.
Thank you.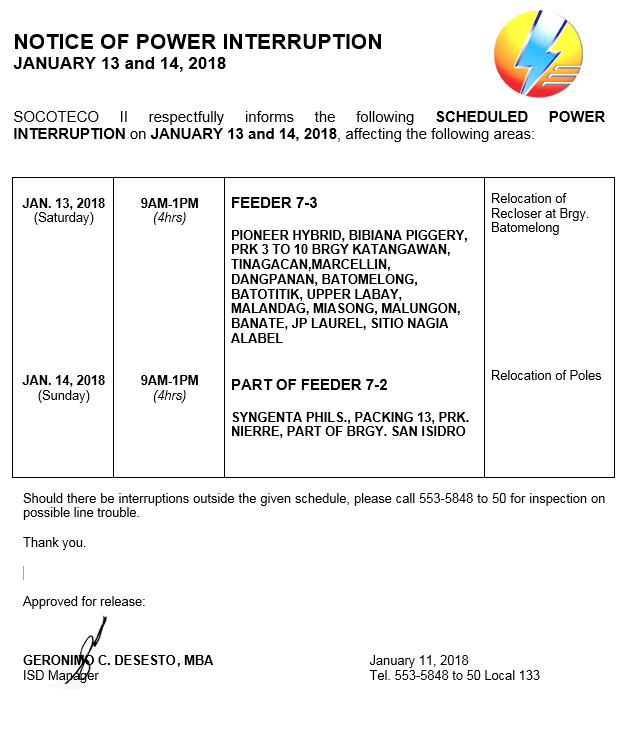 ---