NOTICE OF POWER INTERRUPTION SEPTEMBER 28, 2019
SOCOTECO II respectfully informs the following SCHEDULED POWER INTERRUPTION on September 28, 2019 affecting the following areas:
Sept. 28, 2019 (Saturday); 8AM-1PM (5hrs)
AFFECTED AREAS:
PEÑA HOMES, CASA LUISA VILLAGE, SUPERVILLE SUBD., GAISANO WAREHOUSE, ARADAZA ST. (FROM CORNER ROSARIO VILLAGE UPTO BRGY. BALUAN BOUNDARY)
NOTE: ALL AREAS SERVED BY 17-5 WILL EXPERIENCE 15-MINUTE INTERRUPTION BEFORE AND AFTER LINE ACTIVITY.
REASON: RELOCATION OF POLES DUE TO DRAINAGE CONSTRUCTION
Sept. 28, 2019 (Saturday); 8AM-12NN (4hrs)
AFFECTED AREAS:
PART OF CAHILSOT EXTENSION, TEACHER'S VILLAGE, PART OF MALIWANAG, CAHILSOT, PART OF SAN MIGUEL, ROMANA ELEMENTARY SCHOOL, CITY NATIONAL HIGH SCHOOL AND CAHILSOT ELEMENTARY SCHOOL
REASON: RELOCATION OF SINGLE PHASE LINE IN FRONT OF CAHILSOT ELEMENTARY SCHOOL AFFECTED BY ROAD WIDENING PROJECT OF THE LGU GENSAN
Should there be interruptions outside the given schedule, please call 553-5848 to 50 and mobile no. 09177205365 for inspection on possible line trouble.
Thank you.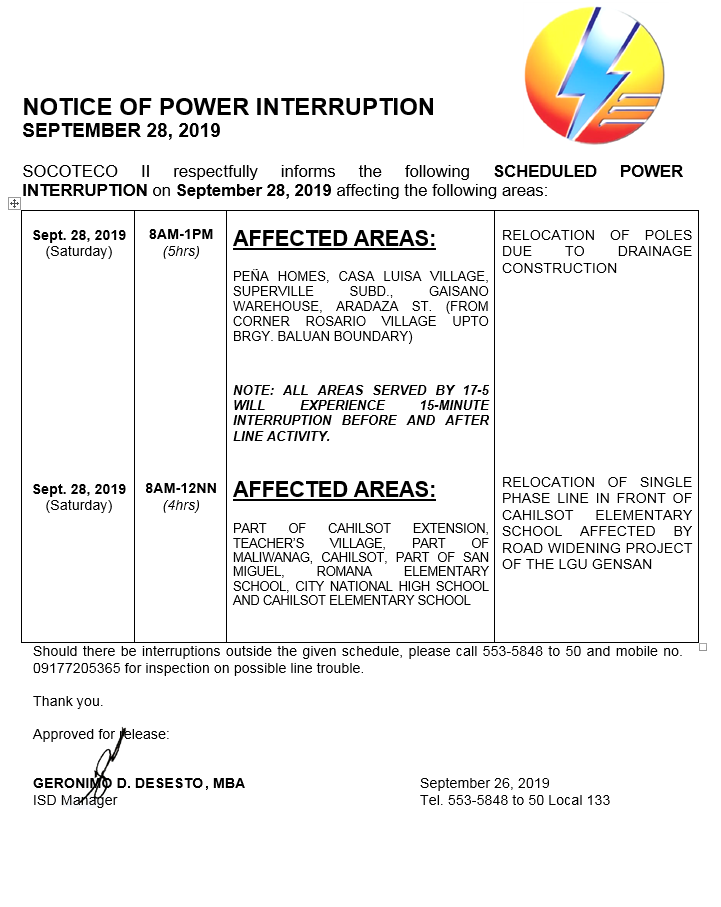 ---