NOTICE OF POWER INTERRUPTION OCTOBER 13, 2019
SOCOTECO II respectfully informs the following SCHEDULED POWER INTERRUPTION on October 13, 2019 affecting the following areas:
Oct. 13, 2019(Sunday); 7AM-3PM (8hrs)
AFFECTED AREAS:
FEEDER 7-1
PETRON LIGAYA
FEEDER 7-2
BRGY. OLYMPOG, BRGY. CONEL, PORTION OF KATANGAWAN (PRK 2, 6, 9), PORTION OF BRGY. MABUHAY, VETERANS VILL., GLORYVILLE SUBD., HOMELESS, CARMELA HOMES, SUSANA HOMES, LANSANG VILLAGE, FERRAREN SUBD., ALPINEVILLE SUBD., UDGARE, DIVERSION RD.(CORNER CONEL RD – NATIONAL HI-WAY TO DAVAO), PIONEER HYBRID SEEDS, EVE GENE SEEDS, AYALA CORP., MAGNO EMNACE CMPD., ALZONA STORAGE PLANT, ROMEO ALEGARIO FEEDMILL, TROME LIVESTOCK, SYNGENTA PHILS
FEEDER 7-3
MOST OF BRGY KATANGAWAN, BRGY. TINAGACAN, BRGY. BATOMELONG, BRGY. UPPER LABAY, MUNICIPALITY OF MALUNGON, BIOSEED RESEARCH PHILS., BIBIANA FARMS MAIN, JOSEPH ILEJAY FARM, CITRA MINA AGRO-INDUSTRIAL, NUTRIBEST LIVESTOCK, MIASONG OF TUPI, BRGY. BALUNTAY, TOKAWAL, AND DOMOLOK OF ALABEL
REASON: ERECTION OF POLE AND CONDUCTOR STRINGING FOR LIGAYA – MALANDAG 69KV LINE CONSTRUCTION
Should there be interruptions outside the given schedule, please call 553-5848 to 50 and mobile no. 09177205365 for inspection on possible line trouble.
Thank you.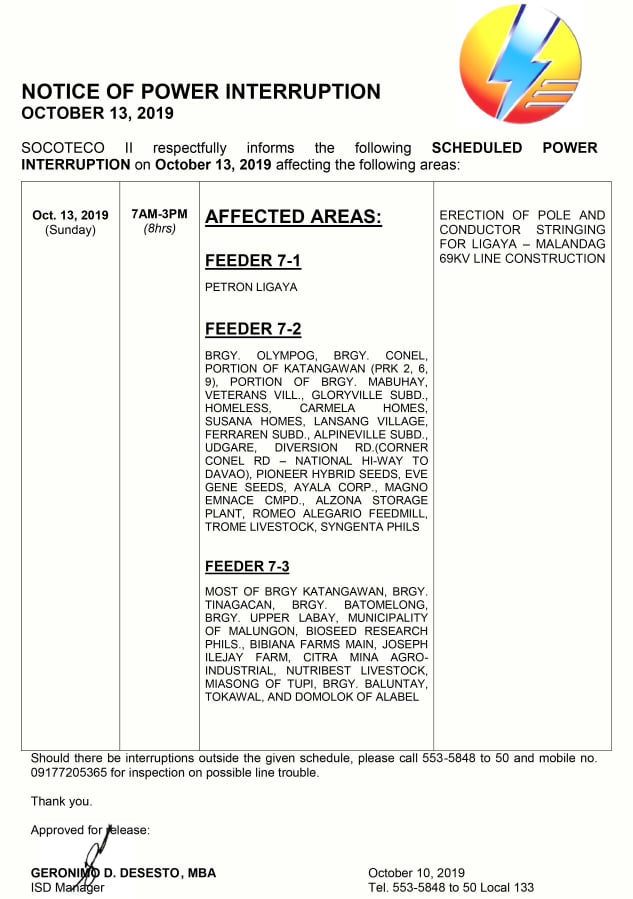 ---