NOTICE OF POWER INTERRUPTION November 9 and 10, 2019
SOCOTECO II respectfully informs the following SCHEDULED POWER INTERRUPTION on November 9 and 10, 2019 affecting the following areas:
☑️Nov. 9, 2019 (Saturday); 8AM-1PM (5hrs)
AFFECTED AREAS:
BRGY. KIHAN, MALAPATAN, SAR. PROVINCE
WHOLE MUNICIPALITY OF ALABEL EXCEPT PART OF MARIBULAN, ALEGRIA, MATUDO, BALUNTAY, TOKAWAL AND DOMOLOK
Note: Whole coverage area of Feeder 3-2 for 30 minutes only from the star of the line activity
REASON: POLE DRESSING FOR THE ENERGIZATION OF NEW FEEDER OF SARI SUBSTATION
☑️Nov. 10, 2019 (Sunday);8AM-1PM (5hrs)
AFFECTED AREAS:
GENSAN VALLEY STOCKFARM, ALBANO PIGGERY, SONBY APARENTE FARM, PART OF PUROK NOPOL, CONEL, GSC
REASON: UPGRADING OF VEE-PHASE TO THREE PHASE LINE
Should there be interruptions outside the given schedule, please call 553-5848 to 50 and mobile no. 09177205365 for inspection on possible line trouble.
Thank you.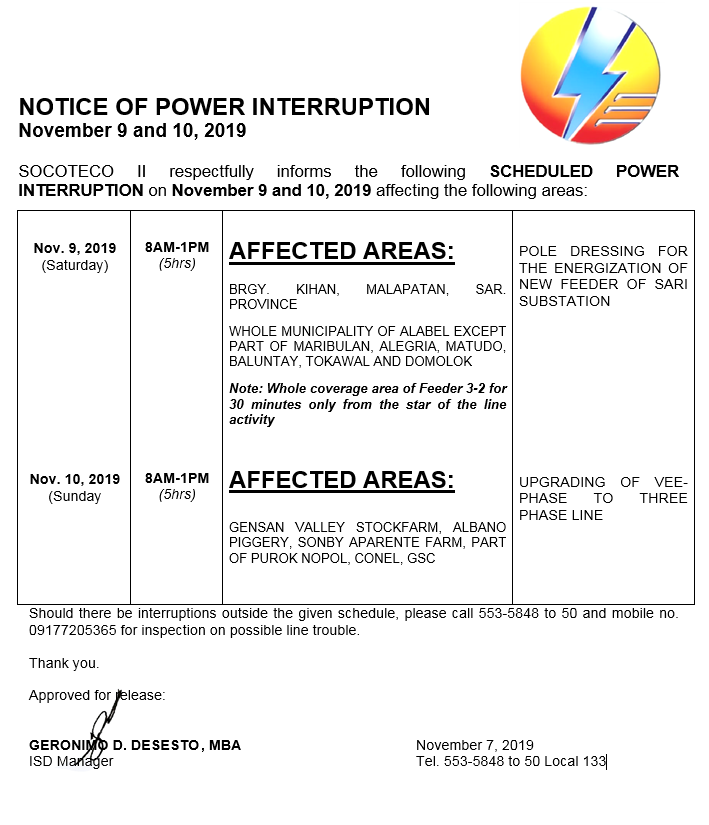 ---