NOTICE OF POWER INTERRUPTION MARCH 1, 2020
SOCOTECO II respectfully informs the following NGCP SCHEDULED POWER INTERRUPTION on March 1, 2020 affecting the following areas:
Date: March 1, 2020 (Sunday)
Time: 8AM-12NN (4hrs)
AFFECTED AREAS:
 ALL AREAS UNDER ALABEL SUBSTATION:
FEEDER 3-1
Maribulan, Saci, Valencia, Alegria, Minanga, Buayan, Asinan, (Amao Road To Royeca Farm), Jeramic Prawn Farm, Baluntay (Purok 2, Sitio Bayan) Baluntay (Purok 2, Sitio Bayan)
FEEDER 3-2
Municipality Of Alabel (Poblacion , Bagacay, Paraiso, Pagasa, Datal Anggas, Spring, Kawas, Ladol, Siento Dyes Mariblan,) Municipality Of Malapatan (Lun Padidu, Lun Masla, Kihan, Daan Suyan, Upper Suyan, Kinam, Patag, Tuyan, Poblacion, Upper Lasang, Sapu Masla)
FEEDER 3-3
Sarangani Aqua Resources
 ALL AREAS UNDER GLAN SUBSTATION:
FEEDER 11-1
Municipality Of Glan( Tapon, Ilaya, Poblacion, Congan, San Vicente, Calabamit, Taluya, Gumasa, Cablalan, Sufatubo, Baliton, Burias, Pangyan, Small Margus, Big Margus, Croos, Laguimit, Rio Del Pillar, Batotoling, Batulaki, Calpidong, Datalbukay, E. Alegado, New Aklan, Kaltuad, San Jose
FEEDER 11-2
Municipality Of Glan (Tapon, Glan, Padidu, Tango, Lago, Kapatan), Municipality Of Malapatan, (Sapu Masla, Sapu Padidu)
REASON: NGCP Power Interruption to Conduct Disconnection of Moving DS Connected to General Santos – Sari/Glan 69KV Line at Gen. Santos Substation Switchyard.
Should there be interruptions outside the given schedule, please call 553-5848 to 50 and mobile no. 09177205365 for inspection on possible line trouble.
Thank you!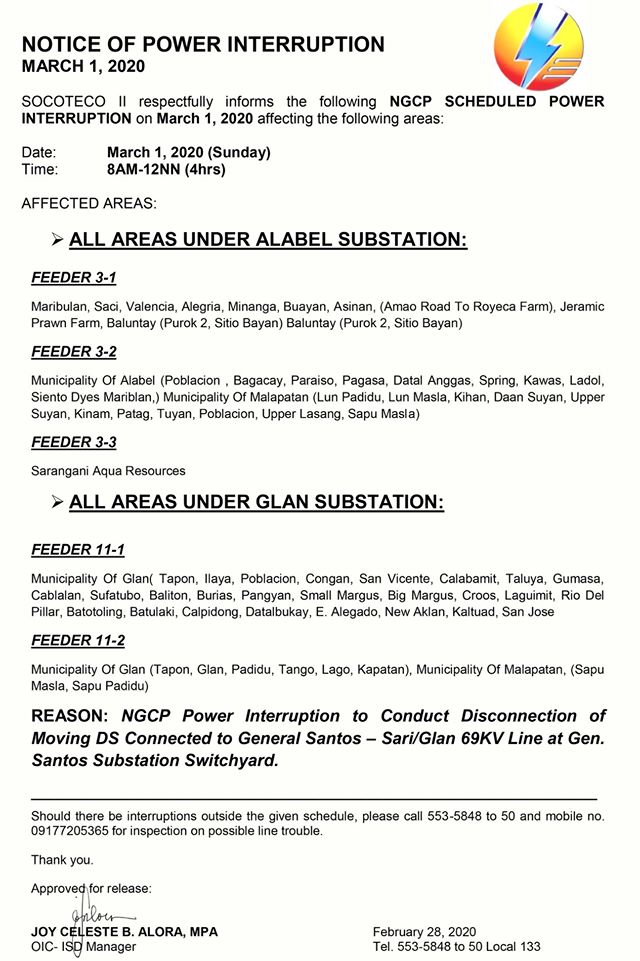 ---