NOTICE OF POWER INTERRUPTION FEBRUARY 8 and 9, 2020
SOCOTECO II respectfully informs the following SCHEDULED POWER INTERRUPTION on February 8 and 9, 2020 affecting the following areas:
☑️Feb. 8, 2020 (Saturday); 4AM-6AM (2hrs)
AFFECTED AREAS
LAUREL NORTH, BO. OBRERO, SPRINGVILLE, NDDU, PENDATUN AVE. (Polyclinic to Sydney Hotel)
Reason: Installation and relocation of poles along Pendatun Ave.
☑️Feb. 8, 2020 (Saturday); 8AM-12NN (4hrs)
AFFECTED AREAS
BRGY. LANDAN, POLOMOLOK
BRGY. DATAL BILA, MALUNGON
Reason: Replacement of poles at Brgy. Landan, Polomolok
☑️Feb. 8, 2020 (Saturday); 6AM-12NN (6hrs)
AFFECTED AREAS
ARADAZA ST., NATIVIDAD ST., CAPAREDA ST., RIVERA ST.(East Side), SAN PABLO ST., LADERA ST., CABEL ST., ARDONIA ST., PORTION OF PRK. BALITE LAGAO, HALL OF JUSTICE, TIONGSON EXTENSION, NDDU IBED LAGAO, AGAN CENTRO, ROSARIO VILLAGE, CASA LUISA, SUPERVILLE, GAISANO WAREHOUSE, SITIO TONING 1 & 2, CARCON VILLAGE, AGAN METRO, COLINAS VERDES
Reason: Relocation of poles due to construction of drainage system along Aradaza St.
☑️Feb. 9, 2020 (Sunday); 12NN-1PM (1hr)
AFFECTED AREAS
GENTUNA 1 & 2, CPAVI, FORMOSA MUTUAL SEAFOOD, MK CENTURY SMOKED FISH
Note: All areas covered by Feeder 21-4 will experience 10-minute interruption before and after the line activity.
Reason: Installation of tapping poles
Should there be interruptions outside the given schedule, please call 553-5848 to 50 and mobile no. 09177205365 for inspection on possible line trouble.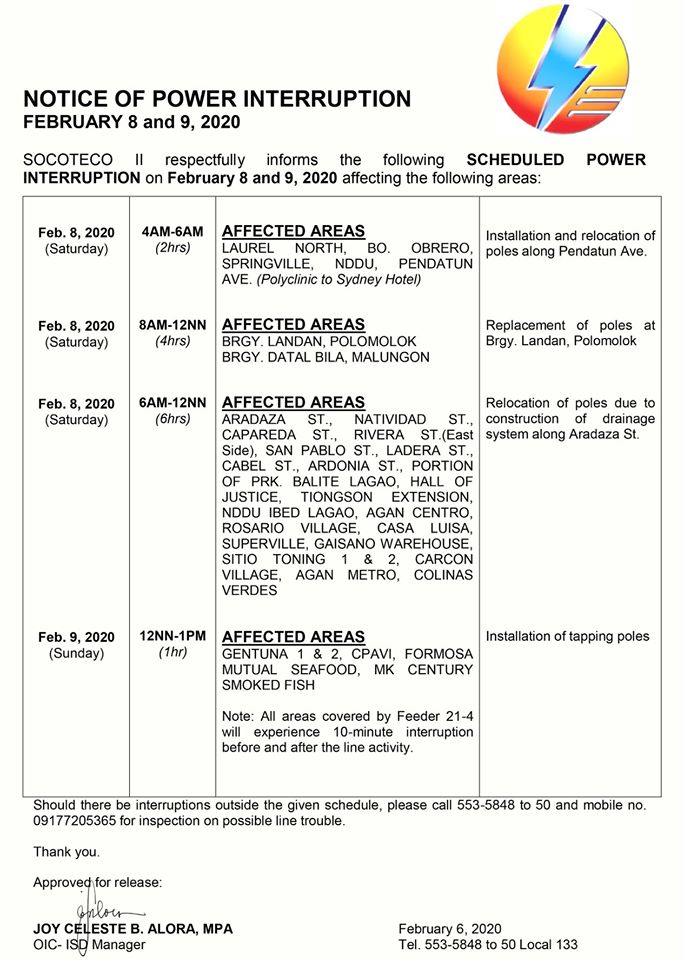 ---