NOTICE OF POWER INTERRUPTION FEBRUARY 16, 2020
SOCOTECO II respectfully informs the following SCHEDULED POWER INTERRUPTION on February 16, 2020 affecting the following areas:
Feb. 16, 2020 (Sunday); 8AM-5PM (9hrs)
 ALL AREAS UNDER TUPI SUBSTATION:
FEEDER 15-1 TEMPORARY CONNECTED TO FEEDER 6-2
Poblacion (Upper Tupi), Brgy. Acmonan, Sitio Guadalupe, 27th Infantry Battalion, Prk. Sta Lucia, Brgy. Kablon, Brgy. Palonuling, Dole Station #4 Mira Farm Simbo
FEEDER 15-2
Poblacion (Part Only) Brgy. Bunao, Brgy. Kalkam, Brgy. Linan, Brgy. Cebuano, Brgy. Lunen, Brgy. Crossing Rubber, Brgy. Bolol Mala, Brgy. Palian, Brgy. Tubeng
FEEDER 15-3
Roxas Sigma
 ALL AREAS UNDER POLOMOLOK SUBSTATION:
FEEDER 6-1
CANNERY SITE, LUNOK, KLINAN 6, UPPER KLINAN, POLO, LANDAN, MALIGO, SILWAY 7, DATAL BILA
FEEDER 6-2
POLOMOLOK HIGH WAY, LUMAKIL, PAGALUNGAN, SULIT, LAPU, BENTUNG, KORONADAL PROPER, SUMBAKIL, SIMBO, CROSSING PALKAN, PALKAN, LAMCALIAF, KINILIS, MAGSAYSAY (PORTION) GAISANO
FEEDER 6-3
MALABARBAS SUBD., JAMILA, SILWAY 8, PUROK STO. NIÑO BRGY. GLAMANG
FEEDER 6-4
POBLACION POLOMOLOK
 DOLE SUBSTATION
REASONS:
1. Pull out of NGCP billing meter at Dole, Polomolok and Tupi Substations
2. Relocation of 69KV Poles at Peoples Village, Brgy. Cannery, Polomolok
Should there be interruptions outside the given schedule, please call 553-5848 to 50 and mobile no. 09177205365 for inspection on possible line trouble.
Thank you!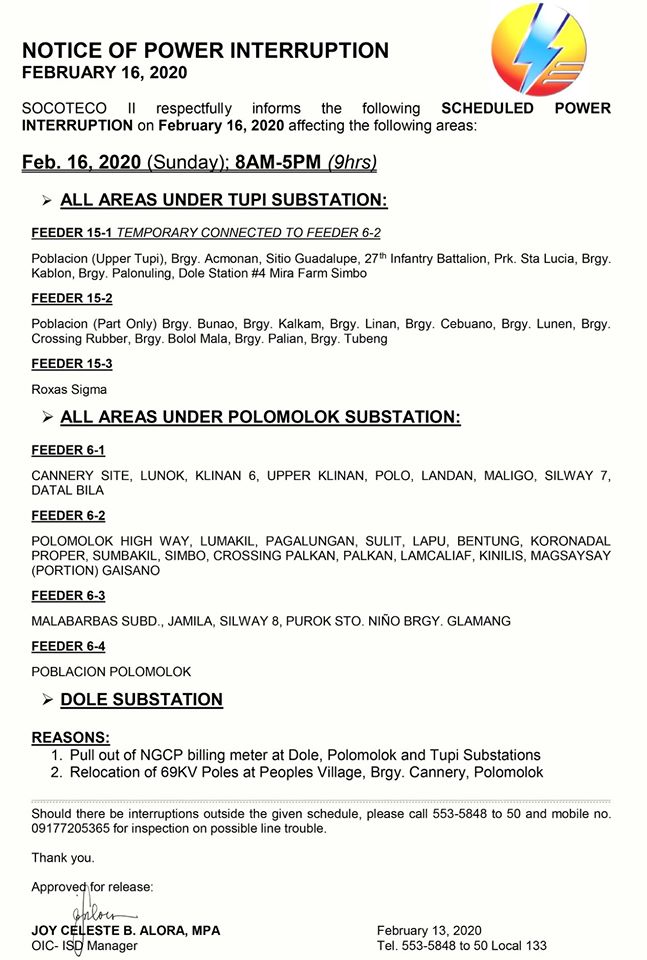 ---