NOTICE OF POWER INTERRUPTION DECEMBER 1, 2019
SOCOTECO II respectfully informs the following SCHEDULED POWER INTERRUPTION on December 1, 2019 affecting the following areas:
Dec. 1, 2019 (Sunday); 8AM-3PM (7hrs)
ALL AREAS UNDER THE FOLLOWING SOCOTECO II SUBSTATIONS:
POLOMOLOK
TUPI
DOLEPHIL
REASONS:
- Installation of Totalizer Meter at NGCP Switchyard
- Installation of HT Structure for NGCP Metering
- Relocation of 69KV Pole at Klinan 5, Mabuhay, GSC
-Installation of Tupi Substation Check Meter
Should there be interruptions outside the given schedule, please call 553-5848 to 50 and mobile no. 09177205365 for inspection on possible line trouble.
Thank you.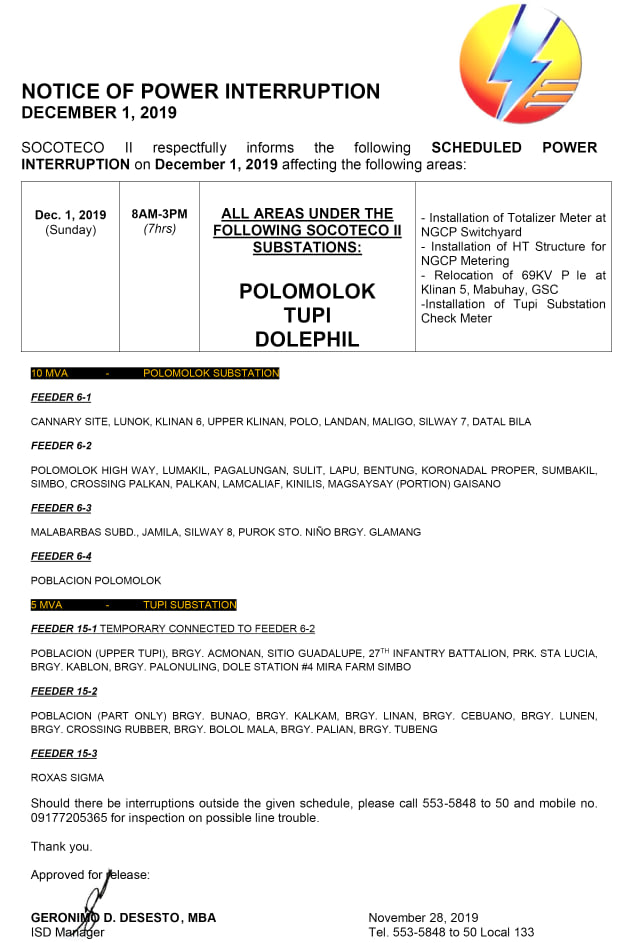 ---