NOTICE OF POWER INTERRUPTION AUGUST 17 and 18, 2019
SOCOTECO II respectfully informs the following SCHEDULED POWER INTERRUPTION on August 17-18, 2019 affecting the following areas:
August 17, 2019 (Saturday); 8AM – 12NN (4hrs)
FEEDER 7-2
BRGY CONEL, OLYMPOG, SUSANA HOMES, FERRAREN SUBD., ALPINEVILLE SUBD., CRUZ COMPD., NURSERY ROAD, AYALA, SYNGENTA PHIL., PRK NIERRA, PACKING 13, GLORIVILLE SUBD., CARMELA HOMES, ODANGO POULTRY, UDAGRE, PRK 2 KATANGAWAN, J. LANSANG HOA, MARYVILLE SUBD, AQUINO SUBD
REASON: CONSTRUCTION OF LINES AT BRGY. LAGAO, GSC
August 18, 2019 (Sunday); 12NN-1PM (1hr)
FEEDER 7-1
PRK 1 LIGAYA HIGHWAY, GS UNI FARM, TERESA RUSTE FARM, ROWEL TRADING, PRK 11 SAN ROQUE LAGAO, TANYOK FARM, TAN YEN FARM, AG STOCK FARM # 1&2, CAPUCHIN, PUROK 19 LAGAO, LAGMAN SUBD., BABASA SUBD., LANSANG SUBD., SAN VICENTE LAGAO, YANSON SUBD., JOHNNY ANG SUBD., ANAS SUBD., P.I. 16 LAGAO, AGAN SOUTHVILLAS, SALAZAR COMPD.
REASON: ERECTION OF TAPPING POLE ALONG NATIONAL HIGHWAY, BRGY. LAGAO, GSC
August 18, 2019 (Sunday); 8AM-1PM (5hrs)
PART OF FEEDER 21-7
GREENVILLE 1,2 AND EXTENSION; LILY OF THE VALLEY;TUBO PARK VILLAGE
REASON:
UPGRADING OF LINES FROM SINGLE PHASE TO THREE PHASE FOR GSC WATER DISTRICT – CALUMPANG PUMPING STATION AT BRGY. CALUMPANG, GSC
Should there be interruptions outside the given schedule, please call 553-5848 to 50 and mobile no. 09177205365 for inspection on possible line trouble.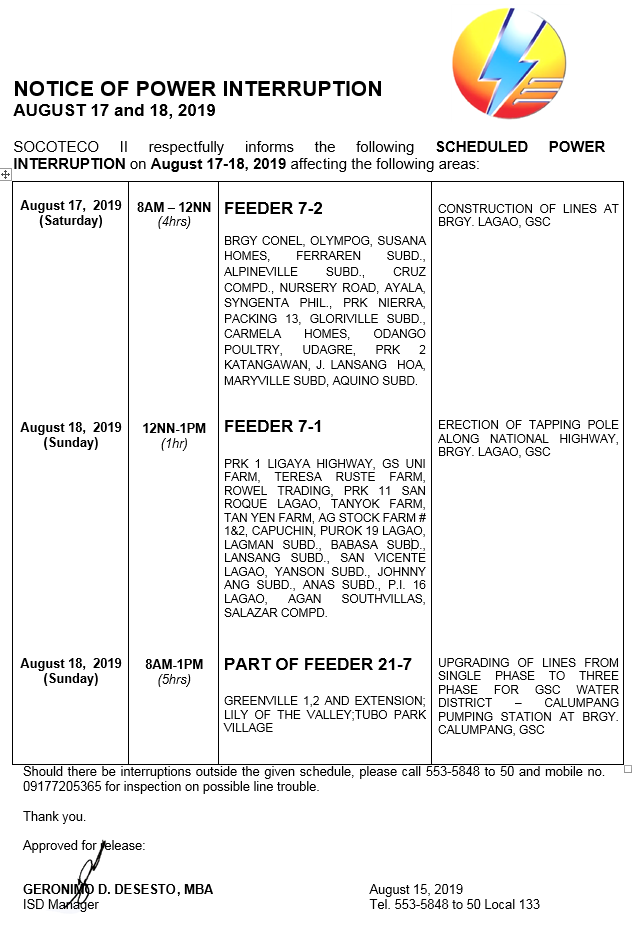 ---