NOTICE OF POWER INTERRUPTION (ADDITIONAL) OCTOBER 27, 2019
SOCOTECO II respectfully informs the following SCHEDULED POWER INTERRUPTION on October 27, 2019 affecting the following areas:
Oct. 27, 2019 (Sunday); 11AM-1PM (2hrs)
AFFECTED AREAS:
FEEDER 4-3
PRK. SAN MIGUEL, STA. MONICA SUBD., PRK. ACHARON, PRK. MALIWANAG, GSC SPORTS COMPLEX, BLISS, CAHILSOT, LOTE, ROWELL CAN, JOLLIBEE CALUMPANG, GSC NHS, CAHILSOT ELEM. SCHOOL, ROMANA ELEM. SCHOOL, CALUMPANG BRGY. HALL, PRK. VETERANS, GREEN PLAINS VILLAGE, TEACHERS VILLAGES, PASSIONIST SISTERS SCHOOL, CARMENVILLE
FEEDER 4-4
PRK. STO. NIÑO, LOWER PUTING BATO, 1ST TO 5TH ROAD CALUMPANG, LOWER NEW BOHOL, CATAPANG VILLAGE, NPC COMPOUND, SAEG, PRK. ESTRELLA, PRK. FELOMINA, BAYANIHAN, SAVEMORE, RD 1&2, AMADEO ICE PLANT, HOLY CROSS PARISH, CANTOJA ICE PLANT, LA VILLA HOSPITAL, STA. CRUZ CALUMPANG, MK SMOKE FISH, FORMOSA MUTUAL SEAFOODS, GEN. MILLING CORP.,JOVET ICE PLANT, PUREFOODS
REASON: INSTALLATION OF TAPPING POLE BESIDE SAVEMORE, BRGY. CALUMPANG, GSC
Should there be interruptions outside the given schedule, please call 553-5848 to 50 and mobile no. 09177205365 for inspection on possible line trouble.
Thank you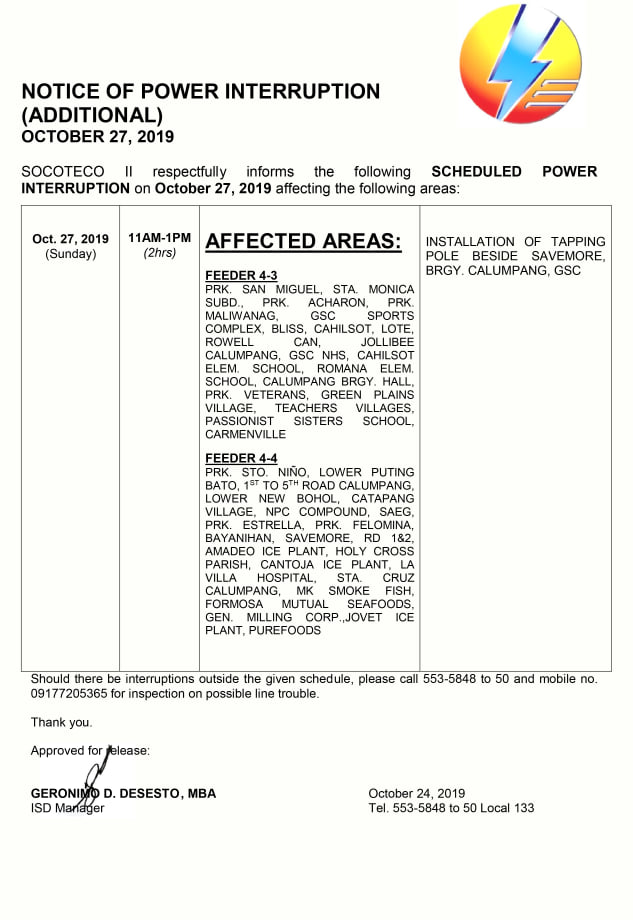 ---