NATIONAL GRID CORPORATION OF THE PHILIPPINES SCHEDULED POWER INTERRUPTION August 25, 2019
The NATIONAL GRID CORPORATION OF THE PHILIPPINES (NGCP) will be conducting a SCHEDULED POWER INTERRUPTION on August 25, 2019 affecting the following areas:
August 25, 2019 (Sunday); 8AM – 12NN (4hrs)
ALL AREAS SERVED BY THE FOLLOWING SOCOTECO II SUBSTATIONS:
SARI AND GLAN SUBSTATIONS
☑️SARI SUBSTATION
FEEDER 3-1
MARIBULAN, SACI, VALENCIA, ALEGRIA, MINANGA, BUAYAN, ASINAN, (AMAO ROAD TO ROYECA FARM), JERAMIC PRAWN FARM, BALUNTAY( PRK. 2, SITIO BAYAN)
FEEDER 3-2
MUNICIPALITY OF ALABEL(POBLACION, BAGACAY, PARAISO, PAGASA, DATAL ANGGAS, SPRING, KAWAS, LADOL, SIENTO DYES MARIBULAN), MUNICIPALITY OF MALAPATAN(LUN PADIDU, LUN MASLA, KIHAN, DAAN SUYAN, UPPER SUYAN, KINAM, PATAG, TUYAN, POBLACION, UPPER LASANG SAPU MASLA)
FEEDER 3-3
SARANGANI AQUA RESOURCES
☑️GLAN SUBSTATION
FEEDER 11-1
MUNICIPALITY OF GLAN(TAPON, ILAYA, POBLACION, CONGAN, SAN VICENTE, CALABANIT, TALUYA, GUMASA, CABLALAN, SUFATUBO, BALITON, BURIAS, PANGYAN, SMALL MARGUS, BIG MARGUS, CROSS, LAGUIMIT, RIO DEL PILLAR, BATOTOLING, BATULAKI), CALPIDONG, DATALBUKAY, E. ALEGADO, NEW AKLAN, KALTUAD, SAN JOSE
FEEDER 11-2
MUNICIPALITY OF GLAN (TAPON, GLAN PADIDU, TANGO, LAGO,KAPATAN) MUNICIPALITY OF MALAPATAN (SAPU MASLA, SAPU PADIDU)
REASON: Four (4) hours shutdown for the correction of critical hotspot at DS associated with Gen. Santos – Glan 69kV line and transfer of said line to its original breaker.
Affected SOCOTECO II customers may inquire details through SOCOTECO II numbers 553-5848 to 50 and mobile no. 09177205365.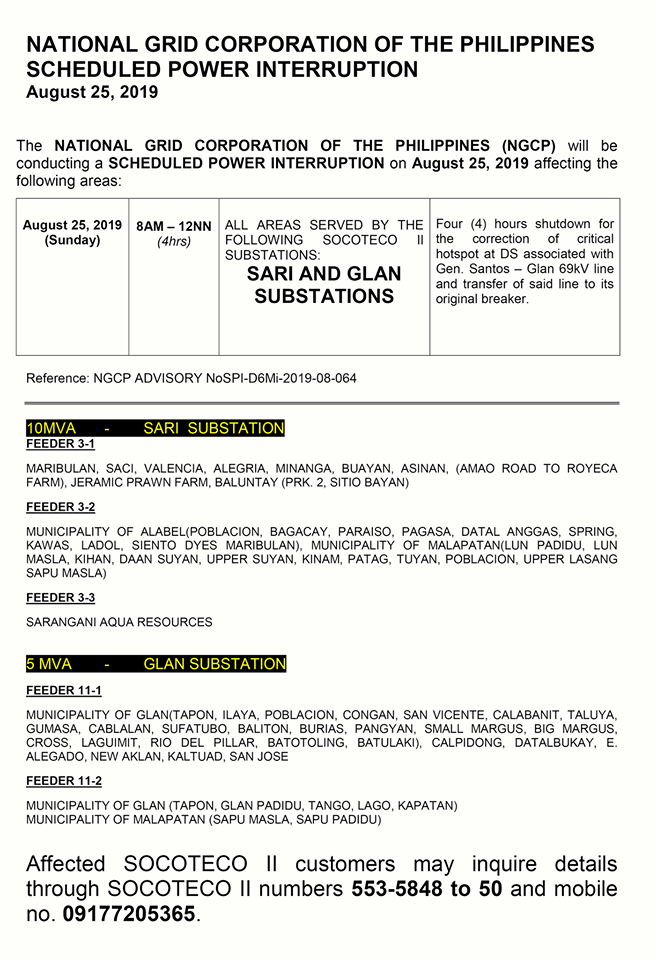 ---