NOTICE OF POWER INTERRUPTION – May 7, 2018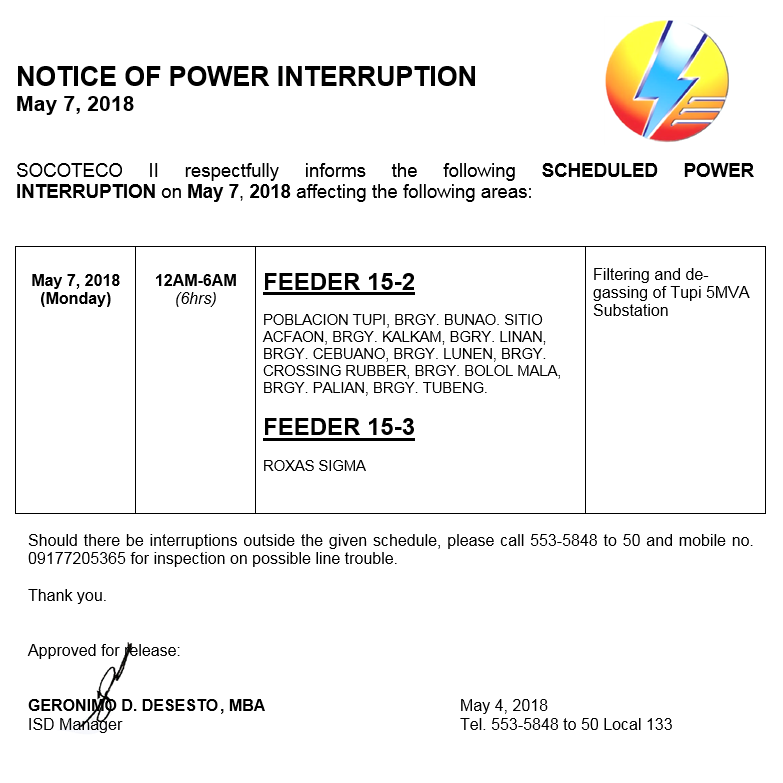 SOCOTECO II respectfully informs the following SCHEDULED POWER INTERRUPTION on May 7, 2018 affecting the following areas:
May 7, 2018 (Monday); 12AM-6AM (6hrs)
FEEDER 15-2
POBLACION TUPI, BRGY. BUNAO. SITIO ACFAON, BRGY. KALKAM, BGRY. LINAN, BRGY. CEBUANO, BRGY. LUNEN, BRGY. CROSSING RUBBER, BRGY. BOLOL MALA, BRGY. PALIAN, BRGY. TUBENG.
FEEDER 15-3
ROXAS SIGMA
Reason: Filtering and de-gassing of Tupi 5MVA Substation
Should there be interruptions outside the given schedule, please call 553-5848 to 50 and mobile no. 09177205365 for inspection on possible line trouble.
Thank you.
---